The MSI Prestige PS341WU is a great monitor, but it's hard to find reliable information about it.
We've MSI Prestige PS341WU review it in-depth for you and tested all its features. Here are our conclusions!
This article is an analysis of the MSI Prestige PS341WU, including its strengths and weaknesses. It includes a full review of the specifications, an analysis of the ergonomics, setup, image quality testing with objective measurements (contrast ratio), subjective tests (image/color quality).
| | |
| --- | --- |
| Screen Size | : 34 ″ UltraWide |
| PANEL TYPE | : Nano IPS |
| WLED | : BACKLIGHT |
| ASPECT RATIO | : 21: 9 |
| COLOR DEPTH | : 10 bits (8 bits + FRC) |
| COLOR SPACE | : 100% sRGB / 98% DCI-P3 / 85% AdobeRGB |
| RESOLUTION | : 5K (5120 × 2160 UW5K) |
| PIXEL DENSITY | : 163 ppi (pixels per inch) |
| BRIGHTNESS | : 400 cd / m 2 |
| CONTRAST | : 1200:1 |
| HDR | : DisplayHDR 600 |
| RESPONSE TIME | : 8 ms (GtG) |
| REFRESH FREQUENCY | : 48 Hz – 61 Hz |
| WIDTH | : 81.71 cm |
| HEIGHT | : 50.07 cm |
| DEPTH | : 26.04 cm |
| WEIGHT | : 8.2 kg. |
| ANGLE OF VIEW | :178º / 178º (horizontal / vertical) |
| HEIGHT ADJUSTMENT | : YES (130mm) |
| ROTATION ADJUSTMENT | : YES (35º) (Left / Right) |
| TILT ADJUSTMENT | : YES (20º / 5º) (Up / Down) |
| WALL MOUNT VESA | : 100X100 mm |
Connectivity and Features
CONNECTIONS
– 2x HDMI 2.0

– 1x Display Port 1.4

– 3x USB 3.2 Type-A

– 1x USB 3.2 Type-B

– 1x USB Type-C (with Display Port 1.4)

– 1 × 3.5 mm Micophone In

– 1 × 3.5 mm Audio In / Out (Combo)

– 1 × 3.5mm Audio Out

– 1x SD Memory Card Slot
BUILT – IN TECHNOLOGIES
– Flicker-free Technology

– Picture-in-Picture

– Picture-by-Picture

– 5 ways joystick Navigator

– Nano IPS

– Anti-theft stand look slot-Kensington
EYE CARE

– TÜV Flicker-Free Certified (Flicker Free Technology)

– TÜV LBL Certified (Low Blue Light)
SPEAKERS
NO
ACCESSORIES
– DisplayPort cable

– HDMI cable

– USB Type-c

cable – USB Type-A

cable – Audio cable
MSI Prestige PS341WU Monitor Best Deals
The MSI 34-inch Prestige PS341WU monitor stands out for its elegant design and ultra-wide format. It also features a 34-inch Nano IPS panel with a 5K resolution (5120 × 2160 UW5K) and a 21: 9 aspect ratio, which will make all the details of your screen stand out.
This MSI model offers a 10-bit color depth with 98% DCI-P3 color gamut, 100% sRGB. This impressive display incorporates HDR 600 and USB-C connectivity.
5k Monitor
Generally, most monitors come with either FullHD (2560 x 1080) or 1440P (3440 x 1440 Pixels). This monitor has 5K2K resolution.
That is, it has more pixels than a 4K monitor. There are more than 5000 pixels horizontally and 2000 pixels vertically for 5120 x 2160 total resolution.
Nano IPS Panel
This monitor has a new technology called nianiosIPS. This is for LG's really expensive computers. This makes it possible to cut some of the blue light from the backlight with white LEDs. Thanks to this, you can see all the colors on the screen better, especially reds and greens.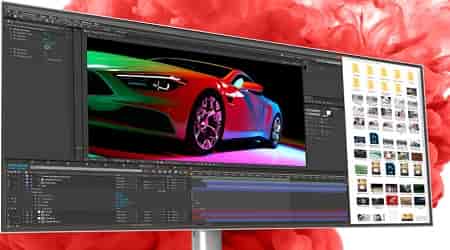 This way, you can get more accurate colors and even exceed 100% of sRGB. It is also important to show other color spaces like DCI-P3, Adobe RGB, or Rec2020, which designers, photographers, and creators use. So it is the best monitor for designers, photographers, and creators.
HDR600 Technology
The MSI 34-Inch Prestige PS341WU monitor can be bright. It can make the content look good with a brightness of 600 nits. It also can show HDR content, which looks better on this monitor than on other monitors.
This monitor has very high values, and it is certified with the HDR600 certificate. It does not reach 1000 nits of brightness, but it is enough to activate HDR when watching movies or games.
Factory Certified Calibration
The monitor arrives with a letter from the factory. It states that each monitor is tested before it leaves. This means that the colors and temperature on this monitor are wonderful. The colors have great quality for both sRGB and DCI-P3, 98% of each space.
Productivity and Multitasking at a Professional Level
The MSI Prestige PS341WU – LED will look good in the professional environment. It is great because it has a native resolution of 5120 x 2160 pixels, which combines ultrawide with 4K resolution. It's very nice when people work on it.
But yes, this monitor is accompanied by the MSI Prestige P100 9th computer. Together they make a good pair for excellent performance.
This gaming monitor is flat. It's not like the other monitors where the edges are curved screens. MSI made this one without any curves, so it will be easier for people to design or edit things. When you look at this monitor, it seems bigger because of the 21: 9 ratio and its size, which is 34 inches.
Ports and Connections
In this MSI Prestige PS341WU Review Ports and Connections can be mentioned that, Among the good features of this MSI, the monitor is that it has a lot of ports. There are two HDMI 2.0, plus a DisplayPort 1.4 and a USB-C for digital video with Internal DisplayPort 1.4 connectivity options. Cables of all types are included, from HDMI to DisplayPort Alt Mode, going through the USB-C mentioned above, which is smaller than other cables because of its small connector size.
We have an audio port that is 3.5 mm. We also have a USB-B input and several USB-A ports, one of them at the bottom. One side has 2 other USB-A ports, a card reader, and a separate microphone and headset port.
Premium Exterior Design
This monitor comes with a mostly white design. It has simple lines that are asymmetric, which makes this monitor more of a premium product. It is not common to see monitors with these features, and it also looks good on this format of the screen real. The cables are arranged in an anchor under a cover on the set, making it look more stylized.
Ergonomics
When you spend many hours in front of the computer, it is important to be comfortable. You can adjust the height of the screen and move it sideways so that you can adjust the angle of the screen. You cannot rotate it to put it completely vertical, but this is normal because of its size.
OSD Interface and Specific Software
This monitor has an interface that you can control with a joystick on the back. You can use it to navigate menus without mistakes because there are only one or two buttons to press at any time.
The MSI Prestige PS341WU also has a specific software (Software Creator OSD) to manage everything even more easily from the PC. It is the Creator OSD program, a variant of the Gaming OSD that the company integrates into its gaming monitors but adapted to the interface and functions of the Prestige series.
In this OSD Interface, we will find all the predefined profiles. We can choose between User Mode, sRGB, DP3, etc. Within each one, we can change the average brightness, contrast, and color temperature. There are other settings like image credit enhancements, gamma, or saturation values for 6 colors. It has access to PC functions like mouse speed and automatic shutdown too. There is also a custom macro option so you can create your macros for keyboard shortcuts or program launching, or anything else!
The interface has many functions. One is the assist function, which displays grids in different positions to help you design measurements. Another function is the PiP mode, which allows you to display up to four video sources on the screen itself.
Before Buying the MSI Prestige PS341WU Monitor, You Should Know This
I want the MSI Prestige PS341WU review as clearly as possible. I am not perfect, but I will try my best to be clear.
It is not a monitor designed for games
A 60Hz refresh rate is not a problem. But an 8 millisecond response time can show some ghosting because of overdrive, which will help. But the monitor has its niche for those who want to use it for tasks like multimedia and video and image editing.
Price
Its price is not too high if we consider the size of the screen, it's diagonal, and especially its resolution. The monitor is also compatible with HDR 600. You might say that it has a fair price when comparing it with other monitors in this area.
Limited local dimming
The monitor has zone illumination, but it is limited. It has twelve vertical zones. This means that we can't have precise lighting. It is best to turn the zone off when you want to look for high color precision.
But with a typical brightness of 450cd/m2 and only 12 zones of local dimming, you are not getting a full-on HDR experience.
MSI Prestige PS341WU Monitor FAQ and Opinions
Q: Is it possible to connect this monitor to a Mac?
A: Yes, you connect it via HDMI or Display Port, and you can use your Mac.
Q: Can this monitor model be used for gaming?
A: Yes, but not in a competitive way. Although for adventure mode, it is fantastic.
Q: Can you view two devices simultaneously?
A: Yes, connecting them by Display Port or HDMI, thanks to the PIP / PBP mode.
Final Words of MSI Prestige PS341WU Review
If you're looking for an ultra-wide monitor, the MSI Prestige PS341WU is worth considering. The beautiful design and finishes are excellent with a high-performance panel, outstanding resolution, and color coverage to match without forgetting compatibility with HDR 600 plus multiple audio outputs or USB HUBs.
The MSI Prestige PS341WU is a great monitor that has been getting rave reviews from customers. It's perfect for gamers or anyone who needs to multitask on their computer, and the sleek design will make your deck look amazing! Check out what else you can get with this model by clicking here. We compare prices, so you don't have to go through all of the research yourself.
---
Read More About: Best Monitor for Eye Strain.