Would you like to know more about the best LG Ultragear gaming monitor? The LG 34GL750-B model monitor is the best Ultragear 144Hz curved gaming monitor. This monitor is discussed in detail in the LG 34GL750-B Review section, which will give you a complete idea about this monitor.
The LG 34GL750-B is a 34 inches ultra-wide Full HD gamer monitor with a 144hz refresh rate. It uses an IPS panel with a wide range of vibrant colors (HDR10) and excellent 178/178º viewing angles.
Offers compatibility with AMD FreeSync and DAS ( Dynamic Action Sync ) compatible with Nvidia G-Sync.
This makes playing on this monitor a different experience than cheaper monitors, mainly due to low input lag and 1ms response time.
It reproduces 99% of the sRGB range, while the HDR10 is only partial, but it nevertheless reproduces glares and colors that are striking compared to conventional monitors.
In short, the LG UltraGear 34GL750-B presents solid performance for gamers. With the great response, contrast, brightness, and insertion of frames to reduce Motion Blur.
Combined with a high-frequency IPS panel ( 144Hz ), all this makes the model a great option for gamers who want image quality. Check now in our review the main features of this monitor.
Technical specifications LG 34GL750-B
LG 34GL750-B 34 Inch 21: 9 Ultragear Curved Wfhd (2560 X 1080) IPS 144Hz G-SYNC Compatible Gaming Monitor

Among its main Features, We find
Model: 34GL750-B
Screen Size: 34 Inches
Panel Type: Widescreen IPS Panel
Display Technology: LED
Refresh Rate: 144 Hertz
Technology: Adaptive-Sync (FreeSync
Resolution: FHD Ultra Wide Plus 1080p
Contrast Ratio: 1,000:1
Response time: 1ms
Aspect Ratio: 21:9
Connection Type: DisplayPort 1.4, two HDMI 2.0 ports, and a headphones jack. 
VESA: 100x100mm
Weight: 18.30 lbs
Dimensions: 32.3 x 11 x 17.5 inches
Mounting Type: Wall Mount
Color: Black
Viewing angle: 178º / 178º
Power Source: AC
Image quality
The image quality of the LG 34GL750-B monitor is as expected from an IPS panel. I.e.
It comes out of the box with calibrated and vibrant colors, perfect viewing angles, and a high brightness rate ( 300nits ). Thus, editing images, videos and playing games will not be a challenge for the model.
The problem of weak contrast level exists (1000: 1), with grayish blacks.
We can solve this by adding another source of light in the room. If you work in the dark, you will notice few details in the darker areas of the images, especially in games.
The Black Stabilizer technology helps a little in this regard. For many, it is enough, but considering the value of the monitor for everything it offers, the contrast is not bad at all.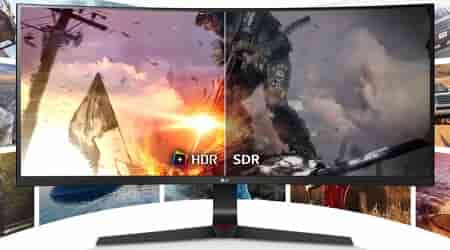 The FullHD resolution on the 34″ panel leaves pixel density at the limit of the ideal (81ppi). Therefore, it does not present pixelated or unclear images, as in some HD monitors (for notebooks, for example.) Or larger inches.
The LG 34GL750-B supports HDR10, even if only partially, as it has a maximum brightness of 300 cd /m2 of the real HDR. However, it is close enough to offer a good HDR experience in compatible games, series, and movies.
The standard quality and color range are excellent, but with proper calibration, they are even better.
It covers approximately 99% of the sRGB range, with color errors in the DeltaE of 2.5 and a slightly darker range in 2.3.
The risk of receiving a unit with IPS Glow or light leakage at the edges is possible. However, very few units come out defective in a way that disrupts use.
In short, the LG 34GL750-B monitor is cost-effective for image quality and performance.
It's a great choice in the price range, with HDR being the icing on the cake for the best quality and image experience.
Features and performance
As you would expect from a gamer monitor, the LG 34GL750-B does not disappoint.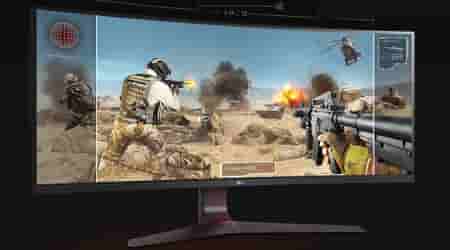 Even not competing with the AOC Hero G2 ( darling of the cost-benefit ), this is a level above, both in the higher price, in quality.
The panel in normal use has a typical response time of 5ms, but when activating the Motion Blur reduction mode, it drops to 1ms. Making you have a competitive advantage in FPS games.
However, with the "Faster" Overdrive option enabled, trained eyes will notice small traces in faster scenes ( overshoot ). Leaving "Fast" is enough for games.
AMD FreeSync is present, as well as G-Sync certified Adaptive-Sync technology. This way, both gamers with AMD and Nvidia graphics cards will have no problems with screen-tearing.
The input lag for this model is around 4ms when at 144hz, which is minimal and unnoticeable unless you are a professional player.
Other interesting features that enhance your experience are the Reader Mode, Black Stabilizer ( improves contrast for more details in dark scenes ), and Flicker Safe technology for long-term eye comfort.
The OSD ( On-Screen ) menu is easy to use, and the desktop mode allows you to adjust image settings easily via the OnScreen Control software.
Now that you know the main technologies of LG UltraGear, see how it is its construction, finish, ergonomics, and durability.
Construction and durability
The LG 34GL750-B Review discusses the construction and durability of the monitor; the LG 34GL750-B has a gamer monitor design but without exaggeration. The minimalist V-shaped design takes up more space but makes it more stable on the table.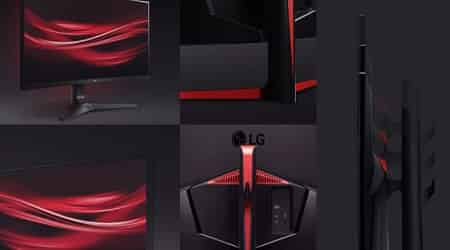 Finished in matte black with details in tasteful red, it does not stand out in more serious environments.
It presents resistant and excellent resistance plastic, with a good level of finishing without burrs.
That way, if you like monitors with a premium aspect, this can be a good option while it's still affordable.
The edges of the canvas are super thin, with a thickness of around 1 cm. With this, you will have great immersion in the games, while using configurations with two monitors will be less intrusive.
The anti-reflective coating is good, and coupled with a high brightness rate; you will have no problem working in places with reflection.
In connectivity, it has everything you need on your current machine or future updates. It has 2 HDMI 2.0 inputs, 1 DisplayPort 1.4, and 3.5 mm audio input.
Ergonomically it is great, with adjustment of inclination, height, and pivot, just missing rotation. However, if you want more ergonomic control, use good support with 100x100mm VESA drilling.
In conclusion, the monitor offers quality and reliability with finish and materials that do not lose for the most expensive models of the LG Ultra Gear line.
Our Opinions on the Monitor in the LG 34GL750-B Review
We can say that the gamer monitor 34GL750-B from LG is good and worth it with all that saw in this review. Like others, there are positives and negatives, but it is a great choice for general use with a greater focus on games.
Unfortunately, it is known that IPS panels have problems in dark environments due to the IPS Glow ( light leak ) and poor contrast in the depth of black. But it is as expected, and it is not insufficient with the Black Stabilizer active.
Its big difference is the brightness rate of 300 nits, while most gamers' monitors are around 350 nits. He can imitate what an HDR would be in some games, even though it is not HDR.
Given the build quality, finish, ergonomics, and image quality, it is worth considering your next 144hz monitor.
Check out some of the offers listed below to save on your purchase and help us bring you more monitor reviews like this one.
If you want a cheaper monitor equivalent to this one, check out the AOC Hero G2. It has similar characteristics and has a lower price in the 24″ version.
Read Here: Best Monitor for Sim Racing.
Advantage
Quality of materials and construction
Panel performance and quality
AMD FreeSync + Adaptive-Sync (G-Sync)
144hz refresh rate
Low input lag and 1ms response time
High level of brightness (400 nits)
It already comes out with great factory calibration
Ergonomics (height and rotation adjustment)
Stable base
Ultra-thin edges
Disadvantages
Low contrast and black uniformity
HDR10 is not real ( panel is not 10bits )
IPS Glow ( light leak )
Rotation is only one direction ( clockwise )
We hope that this review of the LG 27GL650F-B monitor has helped to resolve your doubts. Be sure to check out other monitor ratings, especially if you doubt which one to buy.
---
Click here for details about: Best 4K Monitor for Programming.
And more visit our analysis of the: Lenovo ThinkVision S24e Review