Want to know more about Best LED-Backlit LCD Monitor? The ThinkVision S24e-10 is an LED Backlit LCD Monitor. Lenovo ThinkVision S24e Review discusses this monitor in detail, which will give you a complete idea about this monitor.
Is the Lenovo ThinkVision S24e-10 monitor a good choice? This review will highlight its features, technical specifications, strengths and weaknesses, and what you can expect from this computer monitor.
Many know the Lenovo brand for its cost-effective notebooks, others for smartphones. However, few know its line of monitors, which offer an inviting price for those looking for cost-benefit.
In this evaluation of the Lenovo ThinkVision S24e-10 monitor, you will learn more about the panel used and image quality, features and functionality offered, construction, durability and main complaints regarding the 61CAKCR1US model.
If you are looking for information about the other monitors in the ThinkVision line ( S22E-18 and S24E-03 ), know that they are the same as the S24e-10. The main change is the base with LTPS height adjustment and the larger screen on the 61CAKCR1US model.
At the end of the review, you will find our opinion summarized with the pros and cons of this monitor. There you will find the best offers to save and buy the Lenovo S24e-10 at the best price, warranty, and after-sales service.
Technical specifications
Lenovo ThinkVision S24e-10 23.8-Inch LED Backlit LCD Monitor

Among its main Features, We find
Model: ThinkVision S24e-10 
Screen Size: 23.8 Inches
Panel Type: VA
Display Technology: LCD
Refresh Rate: 60 hertz
Resolution: UXGA Wide
Contrast Ratio: 3000:1
Response time: 4ms
Aspect Ratio: 16:9
Connection Type: HDMI, VGA
VESA: 100x100mm
Weight: 6.77 lbs
Dimensions: 21.2 x 7.9 x 15.9 inches
Color: Black
Viewing angle: 178º/178º
Power Source: AC 120/230 V
Screen and Image Quality
The Lenovo ThinkVision monitor uses a VA (Vertical Alignment) panel, thereby offering excellent viewing angles comparable to IPS panels.
This panel is known for offering accurate colors, but some models have a problem with game tracking ( ghosting ); this is not the case with the S24e-10.
The panel's performance is satisfactory, with a low input lag and a typical response time of 4ms. We don't notice ghosting (tracks) in games, but during fast navigation on pages with a lot of text, it is possible to notice nothing that gets in the way of use or demisters the monitor.
The Full HD resolution ( 1920x1080p ), in conjunction with the 23.8″ screen, provides a good level of sharpness and definition . With this, you will not notice "pixelated" images or letters with blurred edges. This model has 102PPI, or pixel per inch (PPP), well above the recommended 80PPI.
It breaks a branch if you are looking for a basic secondary monitor for editing photos and images ( 72% NTSC ). Since it comes with a reduced model of activated blue light, the white is yellowish when taking out of the box, and it is not possible to adjust brightness and contrast. But don't worry.
If you want to edit the monitor settings, disable this function. Remembering that it is a useful resource if you spend several hours in front of the monitor. Since blue light is harmful to the eyes, causing tiredness, eye fatigue, and even interfering with the body's natural clock.
The technology's brightness and contrast level are expected by offering 250 nits of maximum brightness and 3000: 1 contrast. The combination provides good quality and real colors, but they don't stand out like the most expensive IPS panels.
Because it has good viewing angles ( 178/178º ), it allows you to watch series and films without distortion in colors, as it happens in TN panels of cheaper monitors.
If you want to use it on a panel or monitor stand, it is compatible with VESA 100 mm drilling. However, it does not allow height adjustment, rotation and pivot, only inclination.
In conclusion, we think the image quality of the ThinkVision S24e-10 corresponds to the price. If you are extremely strict with the image, you may find reasons to find the model insufficient.
However, for 99% of people, it is more than enough to perform the basic tasks of work, study, and leisure ( games and movies ).
Features and functionality
The ThinkVision line is thought about cost-benefit. Therefore, they do not offer so many technologies and resources. Fortunately, they added technologies for better visual comfort and compatibility with AMD FreeSync, which is the minimum expected monitor in this price range.
Gamers will be able to play their favourite games compatible with AMD technology at 75Hz. Just have a compatible AMD video card, which will enjoy more fluid and uncut games ( Screen-tearing ) or lag caused by the de-synchronization between the video card and monitor.
Unfortunately, it does not have Adaptive Sync, a technology that would make it compatible with the G-Sync of modern Nvidia cards. Only the Lenovo Legion ( Y25F ) 144hz line features this technology, but it is currently not available in the USA, in addition to being much more expensive.
In addition to being Flicker Safe, it comes standard with the blue light reduction mode activated. In conjunction with Flicker Safe technology, it provides better comfort for you who spend hours on the computer, whether reading, studying, or working. It prevents the blue light emitted by the monitor from causing damage to long and short-term vision.
Ergonomically, it offers no adjustment options beyond the standard of inclination. However, it is compatible with 100 × 100 mm VESA drilling; use a good gas piston holder like the ELG F80N to adjust the monitor according to your taste, height, rotation, pivot and more.
In conclusion, there are few features on the ThinkVision S24e-10, but the ones that exist are quite useful. We like the panel with comfort technologies for the eyes and gamers, like AMD FreeSync.
Construction and Durability
The Lenovo ThinkVision S24e-10 monitor has a good build and finish. Features 2.00 mm ultra-thin side and top edges. It was thought like this to provide better use of space in offices and home office.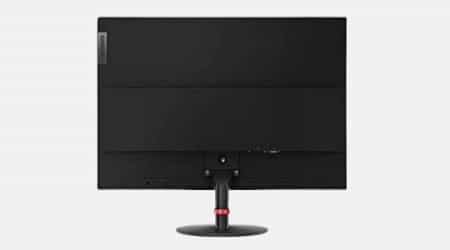 Its round base shares the same objective and keeps the monitor stable in place, preventing accidental drops. In addition, it is very easy to assemble this monitor since it is only necessary to fit the parts without the need for screws or tools.
VA panels have the advantage of not having light leakage problems. This is no different, but some may experience a burnt pixel or leak, while uncommon.
These problems usually present themselves in the first few months and are easily resolved by the warranty.
Thus, we saw no negative points regarding the durability and construction of this monitor. It is compact, fits anywhere, with a strong and secure base and thin edges for better immersion and productivity.
If ergonomics is important to you, we recommend that you choose the 23.8 " model S22E-18 ( 61FAKBR1BR ).
Both have all the characteristics of the S24e-10, with the base with LTPS adjustments (height, 160º rotation of the base, pivot 90º, and inclination).
Connections on the Lenovo ThinkVision S24e Review
This monitor is compatible with old and current computers and notebooks. It features two video inputs, 1 x HDMI cable, and another VGA.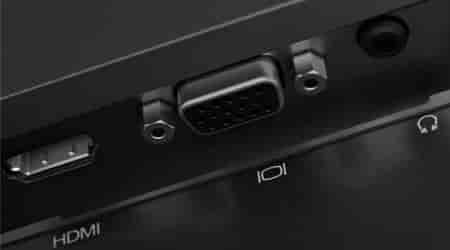 In addition to these, it allows you to connect speakers or headphones via the Audio line-out (mini-jack)behind the monitor. It has no built-in speakers.
Evaluation, is it good?
Lenovo ThinkVision S24e Review is our evaluation of the monitor. With everything seen during the evaluation, we can say that Lenovo ThinkVision monitors are good and reliable, as long as you know what to expect. In particular, the best-selling and revised model here, the S24e-10.
It offers just about everything you need to work and study in addition to good image quality for watching series, movies and playing games. It does not have the same colour vividness as IPS panels, but it offers the same viewing angles without color distortion.
We recommend this monitor for you looking for value for money, whether, for home-office work, office, store, or are a student looking for a monitor to use with their notebook or secondary monitor.
It is great for consuming content ( photos, videos and texts ) and performs well in games ( PC, Xbox One, PS4 and similar ).
If you want better ergonomics, the other monitors in the ThinkVision line offer a base with height adjustment, rotation, pivot and swivel. If you want the best image quality offered by the IPS panel, the LG 24MK430 is more expensive.
Check through the button below the best offers for this monitor, take advantage of the promotional price, and great after-sales. So, you won't have any headaches if you need assistance, as it comes with an invoice and is eligible from Lenovo in the United States.
Recommended for : work (home-office), studies, leisure and casual gamers.
Advantage
Excellent cost-benefit
Viewing angles
Panel performance
Compatible with AMD FreeSync
Real colors and good sharpness
Blue light reduction mode for eye comfort
Panel with anti-flicker technology (Flicker Safe)
Easy to assemble
Compatible with Windows, MAC, and Linux
HDMI and VGA inputs
Thin-edged design
Adjustment menu with front buttons (easy to navigate)
Stable base
Lightweight and portable
Low power consumption 0.3 Watt
Compatible with VESA 100 × 100 mm
Disadvantages
Without Adaptive-Sync (for Nvidia cards)
Monitor menu with few adjustment options
Base without LTPS adjustments ( present in others of the line )
We hope that this evaluation of the Lenovo ThinkVision S24e-10 monitor has helped in your choice.
Thank you if you place your order for the links in this review so you save and help us bring more reviews of monitors for computers, notebooks, and consoles in the future.
---
Click here for details about: Best Portable Monitor for MacBook Pro.
And more visit our analysis of the: LG 20MK400H-B Review.