Finding the right monitor for your needs can be a difficult task. There are so many monitors out there that it's hard to know which one is best suited to you and your business. The Dell P2319H is a great monitor for general business and personal use. The Dell P2319H review discusses this monitor in detail.
Dell has built quite a reputation for themselves as an industry leader in computer hardware, but they also make some of the most reliable monitors today. If you're looking for something affordable that will get the job done without sacrificing quality, then this might just be what you need.
The P2319H from Dell is an excellent choice if you want to upgrade your monitor without breaking the bank or spending too much time researching all of your options online. This high-definition LED-lit display features everything that most people look for when shopping around, and at such an affordable price point, it won't break the bank either!
Dell P2319H Specifications
Dell P Series 23-Inch Screen LED-lit Monitor (P2319H),Black

Among its main Features, We find
Model number: P2319H
Screen display size: 23 23 Inches
Maximum resolution: 1920×1080 pixels
Response time: 8 ms
Aspect ratio: 16:9
Contrast ratio: 1373:1
Brightness: 150-nit 
Backlight: LED
Refresh Rate: 60 hertz
Panel type: IPS
Ports and connectors: HDMI Port, DisplayPort, VGA Connector, USB Upstream Port, USB Downstream Ports,
Cables Included: Power Cable, DisplayPort Cable, USB 3.0 Upstream Cable
Power source: AC
Color: Black
Item Weight: 6.86 lbs
Mounting Type: Wall Mount
Features and Performance
The Dell P2319H is one great choice that offers an anti-glare coating, height adjustment, pivot adjustment, and swivel adjustment in addition to other features.
This monitor was designed with business use in mind but can also be used at home because it has a sleek design that will fit into any workspace or living room. Some notable specifications include 1920×1080 HD resolution, 16:9 aspect ratio, which means this best monitor will deliver stunning images without blurring or ghosting.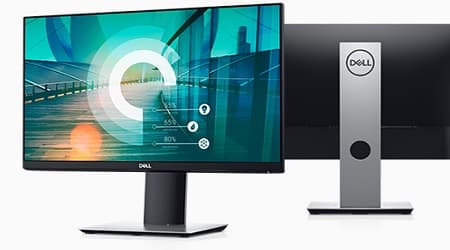 An increasing number of businesses are opting to work from home or in co-working spaces. This has led to a shortage of desk space, and the need for small monitors with thin profiles has increased.
Dell's new P2319H monitor is designed specifically with these constraints in mind and offers more room to work while freeing up valuable desk space. It also boasts ultra-slim bezels that are approximately 22% smaller than its predecessor, occupying less desktop space when not in use!
The three-sided ultrathin bezel design lets you enjoy an uninterrupted view of your content across multiple monitors. With a 178° wide viewing angle, the Dell Professional P2319H monitor offers consistent and clear images from any position in front of the screen.
This means that with this single display, you can multitask more efficiently than ever before by running applications side-by-side or using picture-in-picture mode to show live data feeds alongside other application windows.
You spend a lot of time in front of your monitor, so you need to have a comfortable setup. The new Dell P2319H monitor has features designed for a more comfortable work environment. With an ergonomic stand and adjustable height, this monitor will provide the perfect viewing angle for any type of task or activity.
Plus, pivot tilt swivel options allow you to adjust the screen orientation and add convenience by alleviating neck strain from constant tilting. There are mounts available for those who want even more customization options can use that on multiple devices such as desktops and laptops!
The new Dell P2319H monitor is a TUV Certified monitor with a flicker-free screen and comfort view, which reduces harmful Blue light emissions.
The company's newest technology, Fluid Crystal Technology (FCT), ensures the display is touchable and offers lifelike colors. This monitor has been designed to optimize eye comfort even over extended viewing periods. With VGA connectivity ports and a 60-hertz refresh rate, this product will be perfect for your business or office needs.
ComfortView Technology
To reduce the amount of blue light emitted by computer screens, Dell has released a new P2319H Monitor. The company says that this sleek-looking screen is designed to fit the way we work while providing optimal eye comfort. This monitor is easy to use.
With its flicker-free screen and ComfortView feature, the P2319H monitor provides significantly reduced eye fatigue and can help with other vision problems such as dry eyes or headaches. Along with being eco-friendly, it also offers a high-resolution display at 1920×1080 pixels and a 16:9 aspect ratio which will provide users with quality visuals without distortion or blurring.
Connectivity
The Dell P2319H has been designed to provide a sleek and elegant look while also being practical. A power connector, HDMI port, lock stand feature, DisplayPort input, VGA port connector, and USB ports are all included on the back of the monitor.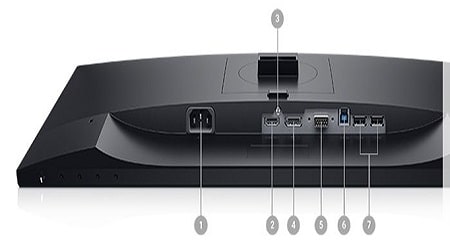 Along with cables to connect your laptop or desktop computer, connecting an external hard drive and display cable is also included in your purchase. This will allow you to have a dual-screen set up in no time with this simple setup.
Ergonomic Design
Ergonomics is a major issue for many people who work in front of a computer all day long. If you're the type to get neck pain, eye strain, or carpal tunnel from sitting too long at your desk, this might be just what you need. The Dell P2319H is designed to allow users to adjust their monitor's height and angle and tilt it up and down. These monitors are easy to use. The picture quality is good, and the power button has a light that fires 45 degrees down and forward.
This allows them to find an optimal position that will not stress any part of the body. The monitor also offers pivoting capabilities, which allows users to move their screen 90 degrees left or right to easily view two screens side-by-side without.
Best Monitor for Work
The new Dell P2319H monitor, with a thin profile and a base that's approximately 22% smaller than its predecessor, will free up valuable desk space. With 1920×1080 resolution and an IPS panel technology, the display delivers lively colors while ensuring a wide viewing angle of 178°/178° for horizontal and vertical planes.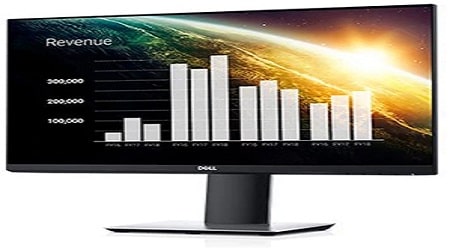 The sturdy stand provides excellent stability during use. And at just 18mm in height when closed, this small-footprint design leaves plenty of room for other items on your desk to stay out of the way so you can focus on what matters most–your work.
If you're looking for a monitor with an ultra-thin bezel, the new Dell P2319H monitor might just do it for you. The three-sided ultrathin bezel design lets you enjoy an uninterrupted view of your content across multiple monitors and the convenience that comes with being able to keep all your work within sight. Plus, they have dual monitors!
According to Dell's research, individuals who use more than one display experience up to 18% increase in productivity. We hope this helps you streamline your workflow and improve both efficiency and productivity!
The new P2319H monitor from Dell offers a range of features that can help those who want to work more efficiently. The P2319H includes two HDMI ports for easy connection to other devices like laptops, tablets, or TVs. And with the Easy Arrange feature on Display Manager software, you can tile and arrange your applications however you need them – quickly and easily.
Furthermore, Auto-restore remembers where you left off if you need to reboot your computer suddenly; it also ensures all your open windows will be exactly as they were when last viewed by remembering their position on screen and restoring everything where it was if needed.
With a wide viewing angle enabled by IPS technology, Dell's newest 23-inch monitor offers rich and consistent vibrant colors from any seat in the room. The best part? This monitor is affordable and easy to use with its built-in HDMI connection, VGA connector, and DisplayPort. So what are you waiting for? Get your work done on this high-quality yet low-cost screen!
Dell provides a clean and clutter-free work environment
The new Dell P2319H monitor is designed to fit your way of working. This larger screen has an improved cable management design that hides away the cable clutter from view, so you can focus on your work. The 23″ widescreen offers 1920×1080 resolution with wide viewing angles and an anti-glare coating for reduced reflections.
Plus, this model offers superior connectivity options, including HDMI, DVI-D, VGA input ports to meet any preference or need. Now you can have a cleaner workspace to stay focused on what matters most – your work!
Provides Maximum Productivity
This part of the Dell P2319H review discusses the productivity of the monitor in detail. Dell has launched a new 23″ Full HD monitor. The company's intention with the design of this product was to make it fit your way of working.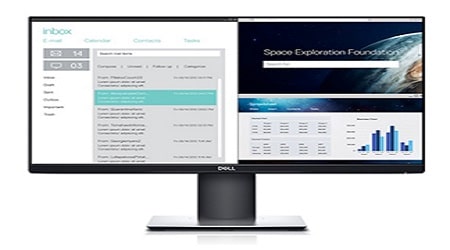 With an ultrathin bezel design and a three-sided comfortable viewing position, you can view content more productively on multiple screens without having to move your eyes from one side to another, which is common with traditional monitors. There are also features that will allow for easy connectivity through USB Type-C ports or HDMI input sources.
Provides a space for your work
The monitor is designed to give people more desk space and better cable management than ever before. With easy arrange on Display Manager software, you can quickly organize multiple applications on-screen with ease and without any distractions.
It also comes with an improved cable management design so that no cables are hanging around, taking up valuable space on your desk or floor.
With In-Plane Switching Technology, this monitor ensures rich color space at every angle, all while being clear from pesky reflections and glare thanks to its anti-glare treatment.
Advantage
The monitor is good. It provides the right quality for everyday use.
The monitor has good adjustments that make it easier to see.
The monitor has an excellent connection to the computer.
Mounting-Hole Pattern 100 x 100 mm.
The monitor is very cheap.
Disadvantages
This monitor does not come with speakers built-in.
This monitor is not fast enough to play games.
Final Words of Dell P2319H Review
This is a great monitor for the price and has many features that make it versatile. It's also good quality, which means using this Dell P2319H as your main workstation or one of two monitors in an office setting.
The anti-glare coating on this 23-inch screen size prevents eye strain. At the same time, the height adjustment, pivot adjustment, swivel adjustment, and tilt adjustments are convenient features to have when using at different heights or locations.
We hope we've given you some things to think about before making a purchase decision, so go ahead and check out current prices!
---
Click here for details about LG 34WK650-W Review.