In this Acer KG241Q review, you will find out everything you need to know about the monitor. We will tell you what is good and what is bad. We will also give some features of this 144hz monitor and how it works.
The Acer KG241Q has become one of the best-selling 144hz 1ms gamer monitors in a few months. Much due to its excellent cost-benefit, being cheaper and just as powerful.
If you want to know more about this monitor before deciding, you've come to the right place. Check out what is coming if you choose this Acer monitor model!
Acer KG241Q Pbiip 23.6″ Full HD (1920 x 1080) TN 144Hz 1ms Monitor with AMD FreeSync Technology (Display Port & 2 x HDMI)

Among its main Features, We find
TN 23.6" Widescreen W-LED Panel
Resolution: Full HD (1920 x 1080p) – 144 Hz
Contrast: 1,000:1
Response time: 1ms (GTG)
Number of colors: 16.7M – 6Bits+FRC
Brightness: 300cd/m²
Aspect Ratio: 16:9
Viewing angle: 160º/170º
I/O: 2 x HDMI v1.4, 1 x DisplayPort v1.2, 1 P2 (3.5mm)
Model: KG241Q Pbiip UM.UX1AA.P01
Energy consumption: 23W (internal source)
HDMI 2.0 cable included
Packaging weight 5.3 kg
Bivolt
The market for 144hz and 1ms gamer monitors is very hot. Everything indicates that the FullHD resolution will not die yet.
Acer managed to beat the king of cost-benefit in several sales. It is the most cost-effective 144 Hz gamer monitor.
This is a great monitor if you are a competitive player who can take advantage of the last update and low input lag. It offers great performance and good image quality, but it has some limitations like any TN panel. The Acer KG241Q is an inexpensive option. 
It delivers a 23.5″ FullHD TN screen, a response time of 1ms, and a refresh rate that can go up to 144Hz (which can be used by either DisplayPort or HDMI). It also has a durable base, and it supports AMD FreeSync.
This monitor is not blurry. The screen has a good number of pixels on it per inch ( 93ppi ). You will see the images on your screen that are defined and without any lines.
The panel used in this product is the TN ( Twisted Neumatic ) 8-bit (6-bit + 2-bit FRC), 300 cd/m brightness, and 1000:1 static contrast. This panel type is good for fast refresh rates and low input lag but has bad colors and viewing angles.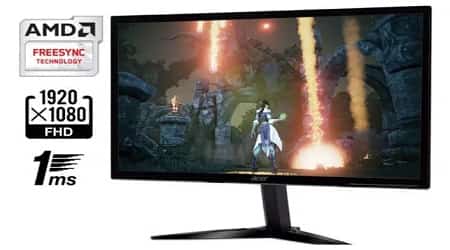 But you might pay more for an IPS/VA panel with better colors and viewing angles while maintaining high refresh rates (144Hz) and low input lag and response time (1ms).
The colors on the Acer KG241Q are not bad for gamers. It's also okay if you want to use it for some of your work. But if you want to edit photos or watch movies outside of a 160V/170H angle, then the colors might not be good enough.
You have a TN panel. It is not hard to sit in front of it to compare it with an IPS/VA panel. Both panels have 178/178 angles, but there is little difference between this one and the other one because they both have 160/170, too.
The screen is 300 cd/m2. It has a good brightness level. This means that you can see the screen even in bright places, and it won't reflect off the screen.
The contrast level is good, but it isn't very dark. It's more like a gray color. This happens on the type of screen that doesn't have IPS and VA panels (the type most common).
The quality of the monitor is excellent for games like CS: GO, PUGB, Overwatch, Fortnite, FreeFire, and League of Legends.
If you want more colors and better contrast, you will need to spend more money on a good game monitor.
Features and Functionalities
Some gamers have problems with the screen being cut off. AMD FreeSync compatibility is something that might help this issue.
This technology is very good because it does not cause any lag or problems like V-Sync in games.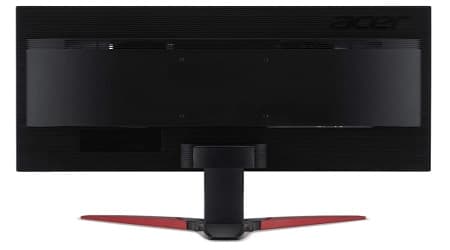 Most current graphics cards are compatible with AMD RX 5XX+ and Nvidia generation 10XX and 20XX. However, NVIDIA cards only support FreeSync using DisplayPort cable.
This video game technology works by ensuring that the frames per second from your video card are synchronized with what is happening on the screen. It makes your gameplay smoother and more fluid without any ghosting, tearing, or lag.
If there are problems with your monitor like crashes, flickering screens, and lag, they might be caused by other hardware issues. These can be caused by things like a bad cable, poor quality internet or more. Another good thing about this monitor is that it has no flashing lights. 
That means you will not hurt your eyes. It also has a blue light filter, so you can play for as long as you want without worrying about hurting yourself. Due to which it is the best monitor for eye strain.
The on-screen-display menu is easy to use. All the information and functions are there. You can calibrate the image to your liking and enable gamer-only features like:
Black Boost ( improves visibility in shadows ),
Aim Point ( add crosshairs in the center of the screen ),
Super sharpness ( greater sharpness ),
Overdrive ( a kind of overclock to reduce ghosting )
Visual Response Boost MBR ( Motion Blur reduction ).
We recommend that you set the overdrive to Normal and not Extreme. If you enable it, it can lead to artifacts (overshoot pixels). We do not recommend using Motion Blur Reduction because it makes the screen darker and doesn't work with AMD FreeSync.
Construction and Durability
The KG241Q Pbiip is a well-built monitor. It is made with good quality materials, which will last a long time if you take care of it. There are no reports of any burnt pixels or light leaks in this model.
Although it's called a compact screen, the Y-shaped base is large and takes up space on your desk. The monitor is a little more distant. This feature protects your eyes. It helps them stay healthy. So you can see the screen better and not get sick.
Gamers who like to play a lot of games on their screens should get a VESA-compliant stand. This will help you play better, and it is safe for your eyes.
Ergonomically, this monitor doesn't give you the option to adjust how high it is or tilt and rotate. You can get a stand for the monitor that will give you better ergonomics and comfort.
The monitor has thick edges. It is not an issue alone, but it is important to mention if you plan to use the screen with another one (a second monitor).
The Acer KG241Q is compatible with most current computers because it has 2 HDMI 1.4 and 1x DisplayPort 1.2 inputs.
If you want to use AMD FreeSync on your NVIDIA card, you will need a DisplayPort cable. The box only comes with HDMI 2.0 cables. This model does not have a speaker. But it has an input you can use for your headset.
This monitor is compatible with the VESA 100x100mm standard. You can use it on a wall mount or a desktop stand.
Do you think it is worth it?
The Acer KG241Q review says that the Acer KG241Q is a monitor that lets you play games at an affordable price. It is good if you are just starting. TN panel colors and viewing angles are not a defect. All gaming monitors in this price range use this one. 
But if it is important to you, then get one with an IPS/VA panel. The weight of choice is due to the importance of a monitor with height and tilt adjustment. If the monitor needs to come out of the box with height adjustment, it's heavier.
If you want to save money and have the most cost-effective 144hz 1ms gamer monitor today, choose the Acer KG241Q without fear. It is compatible with the most current and future computers (it has HDMI and DisplayPort inputs).
Advantage
Excellent value for money
144hz update rate
Low input lag and 1ms response time
Compatible with AMD FreeSync
Various features for gamers
Good quality TN panel
Compatible with PC and Consoles (PS4, Xbox, etc.)
Sharpness
Compatible with VESA 100×100
HDMI 2.0 cable included
Easy to use OSD menu and calibrate colors and settings
Easy to assemble
Tilt adjustment (5/15º)
Plug & Play
Disadvantages
Viewing angles
Color quality and contrast compared to IPS/VA panels
Thick edges
Large Y-shaped base
DisplayPort cable not included
Final Words of Acer KG241Q Review
At the end of the Acer KG241Q review, the Acer KG241Q has become one of the best-selling 144hz 1ms gamer monitors in a few months. Much due to its excellent cost-benefit, being cheaper and just as powerful. 
If you want to know more about this monitor before deciding, you've come to the right place. Check out what is coming if you choose this Acer monitor model! Click here for pricing information (the reviews will also tell you how much people like it).
---